Plumbing & Drainage Sydney
ANY DRAIN, ANYWHERE, ANYTIME Your local trusted Sydney plumbers
Same Day Service Guarantee
We'll arrive within 90 mins or you get $100 off!
We offer a 10% discount on all of our plumbing services to pensioners 
$0 call out on all jobs.
And if your problems not solved IT'S FREE! 
Solution For Blocked Drain Sydney: Your Ultimate Choice — Emergency Drains
If you've ever found yourself asking, 'How much is a blocked drain in Sydney?' or 'How do you unblock drains in Australia?', then you've come to the right place. Welcome to Emergency Drains, your one-stop solution for all drain-related issues!
Why People Trust Us With Their Drain Cleaning Services Sydney
Located at the heart of Sydney, Emergency Drains is more than a business. We're part of the community, here to solve your drainage problems with care, whether big or small.
We're always available, 24/7. Need to unblock drains in Sydney? Or perhaps it's general plumbing maintenance? Our skilled team is ready for a quick and effective fix.
Emergency Drains is a locally-owned and family-operated plumbing business in Sydney. Our team of experienced and professional plumbers travels all over Sydney to fix plumbing and drainage issues, no matter how big or small. Our 24-hour service saves many homes and businesses, year after year. If you're in need of a drain plumber or plumber Sydney service, call us today at 1300 524 474!
If you're searching for an emergency plumber Sydney, get in touch with the experts at Emergency Drains!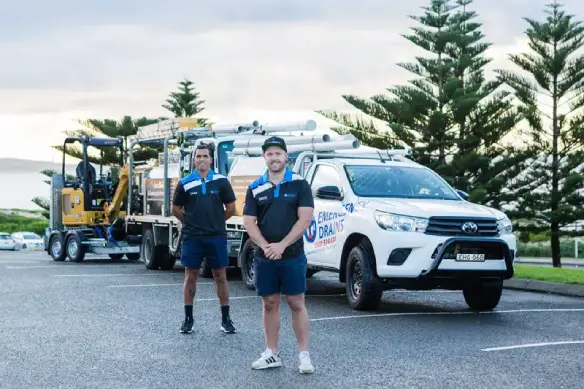 Top-Quality Workmanship: Our Guarantee
When it comes to unblocking drains in Sydney, we're second to none. Our skilled plumbers are experts in fixing blocked drains in Sydney for homes and businesses.
At Emergency Drains, we prioritise quality. We use modern tools and hygienic methods to keep your drains clear and working smoothly.
When you choose Emergency Drains, you're choosing peace of mind. We offer complimentary CCTV camera inspection with every blocked drain, and our commitment to your satisfaction is evident in our $0 call-out fee.
We're more than just a service; we're your trusted solution. Give us a call at 1300 524 474, and let us be your solution for a hassle-free experience!
24 Hour Emergency Plumber
Blocked Storm Water Drain
Our 100% Workmanship
Guarantee
All our plumbers are specialists in clearing blocked drains in or near your home or commercial property. Our diagnosis and clearing techniques will have your drain unclogged in no time.
We offer a Free CCTV Inspection on every blockage!
We clear slow running or blocked drains in the Sydney area. Our plumbers use hygienic methods and modern tools to unclog all types and sizes of drains.
So whether you have an emergency or general maintenance plumbing – we are open 24 hours.
Call now on 1300 524 474 and we will clear and repair your drains fast!
$0 Call Out Fee and if the problem is not solved, it's FREE!
Why We Stand Out: 12 Solid Reasons
From our residential and commercial Sydney customers.